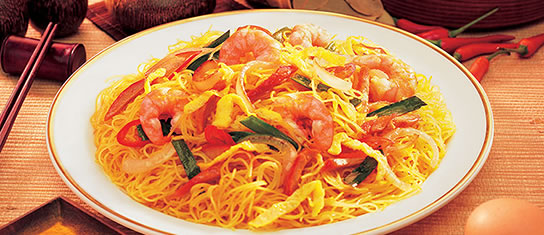 30 Nov

Singapore Curry Noodles

Singapore Curry Noodles

2016-11-30 08:46:18

Ingredients
AMOY Lo Mein or Chow Mein Noodles (Thawed) 5 lbs
Chicken Breast (skinless, cut into 1/4 inch strips) 1 lb
Shrimp (small to medium) 2 1/2 lbs
Vegetable or Peanut Oil 1 1/4 cup
Minced Ginger 1 cup
Minced Garlic 1/3 cup
Bean Sprouts 2 1/2 lbs
Green Onions ­ cut into 1­ inch sections 5 cups
Bok Choy, chopped 10 cups
Red Bell Peppers, julienned 5
Eggs, lightly scrambled 8
Soy Sauce 5
Curry Powder 1/2 cup + 2 Tbsp
Crushed Red Pepper flakes 1/8 cup
(5 tsp or to your taste)
Instructions
Cook the shrimp and chicken in 1/2 cup of vegetable or peanut oil and set aside.
Add the remaining 3/4 cup of oil, and heat until hot.
Sauté the ginger, garlic, green onions and Red Bell Pepper about 1 minute. Add the noodles, chicken, shrimp, eggs, soy sauce, pepper flakes, bean sprouts and curry powder and toss lightly until completely mixed.
Transfer to serving platter.
Amoy http://amoyfoodservice.com/