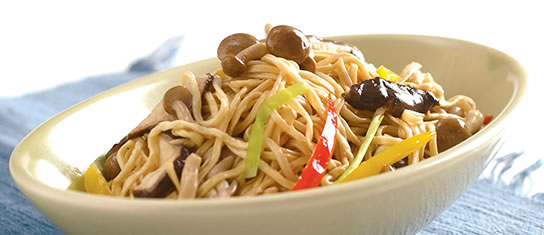 30 Nov

Spicy Curry Noodle Salad

Spicy Curry Noodle Salad

2016-11-30 08:53:45

Ingredients
AMOY Lo Mein Noodles 5 lbs
Assorted Vegetables 5 cups
(shredded carrots, sliced cucumbers, celery, mushrooms,...)
Coconut Milk 2 cups
Hot Curry Paste 1/4 cup
Parsley or Coriander, chopped 1/4 cup
Sugar 1/2 cup
Creamy Garlic dressing 1/2 cup
Salt 2 1/2 tsp
Green Onions, chopped 5 stalk
Instructions
Blanch noodles in hot water for 1­2 minutes. Drain excess water and cool in cold water.
In a salad bowl, mix curry paste, coconut milk, salt, sugar, and creamy garlic dressing. Mix in vegetables, then noodles. Add chopped parsley or coriander, chopped green onions, and toss. Refrigerate approximately 30 minutes before serving.
If desired, top salad with grilled chicken breast.
Amoy http://amoyfoodservice.com/