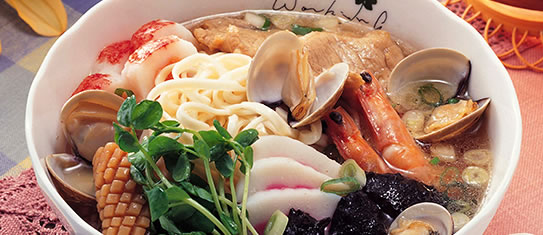 30 Nov

Mein Attraction Noodle Soup

Mein Attraction Noodle Soup

2016-11-30 09:14:03

Ingredients
AMOY Udon or Lo Mein Noodles 12 pieces (6­8 oz)
(Simmer for several minutes and set aside)
Asian Broth
Chicken Broth 2 1/2 gallons
Soy Sauce 1 1/4 cup
Ginger (ground or chopped) 1/4 cup
Oyster Sauce 1/4 cup
Soup Ingredients
Snow Peas, Bok Choy or Broccoli Florets 2 1/2 lbs
Green Onion (chopped) 3 cups
Cilantro (chopped) 3 cups
Carrots (sliced thin) 2 1/2 lbs
Cooked Shrimp (optional) 2 1/2 lbs
Instructions
Amoy frozen Udon or Lo Mein Noodles: Blanch in boiling water for 5­-7 minutes, then drain and cool in cold / running water.
Simmer Snow Peas, Green Onion, Carrots, Shrimp in Asia Broth ­ Simmer for 2 minutes until cook. Serve or ladle the broth mixture over the noodles.
Garnish with cilantro in individual bowls.
Amoy http://amoyfoodservice.com/