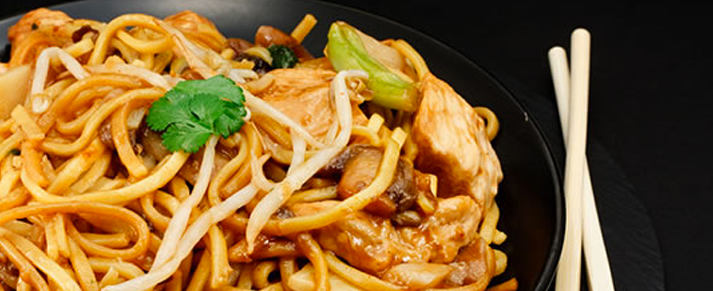 29 Mar

Garlic Pork Lo Mein

Garlic Pork Lo Mein

2016-09-30 09:55:21

Ingredients
AMOY Lo Mein or Chow Mein Noodles 5 lbs
(Thaw noodles by blanching in hot water for 2-3 minutes cool under cold water and set aside)
Pork, trimmed of fat and cut into thin strips 5 lbs
(chicken can be substituted)
Garlic Marinade - Mix together and marinade the pork for 15 minutes
Soy Sauce 2/3 cup
Rice Wine 1/2 cup
Minced Garlic 1/2 cup
Sugar1/4 cup
Vegetable or Peanut oil 1 cup
Minced Ginger 2/3 cup
Sliced Mushrooms 1 1/4 lbs
Green Onions - cut into 1-inch sections 2 bunches
Mung Bean Sprout, blanched A few
Lo Mein Sauce - Mix together
Chicken Broth 3 quarts
Rice Wine 1 1/4 cups
Soy Sauce 2 cups
Sesame Oil 3 Tbsp
Sugar 3 Tbsp
Ground black Pepper 1 1/4 tsp
Corn Starch
Instructions
In a bowl, marinate the pork in the garlic marinade, toss to coat.
Cook the marinated pork in 1/2 cup of Vegetable or Peanut Oil and set aside.
Add the remaining 1/2 cup of Oil, and heat until hot. Sauté the ginger, mushrooms and green onions about 1 minute. Add the Lo Mein sauce and cook, stirring constantly to prevent lumps, until thickened (approx. 1-2minutes). Add the noodles and pork and toss lightly. Garnish with bean sprout. Transfer to serving platter.
Amoy http://amoyfoodservice.com/