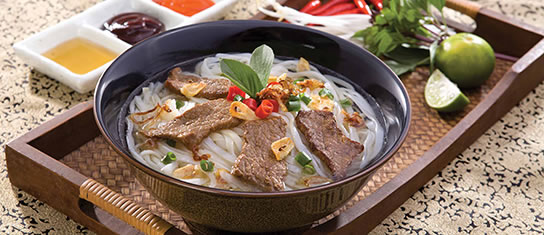 30 Nov

Vietnamese Pho

Vietnamese Pho

2016-11-30 08:56:54

Ingredients
Amoy Frozen Rice Noodle 6 oz (half a pack)
Sliced Flank or thin sliced steak 2 oz
Fresh Bean Sprouts 1/4 cup
Fresh Thai Basil 0.7 oz
Cilantro, Chopped 0.5 oz
Scallion, Chopped 0.5 oz
Fresh Lime 2 wedges
Quick Pho Broth
Beef Stock 26 oz
Onion, Sliced 1/4 cup
Garlic, Chopped 1 tsp
Ginger, Chopped 1 tsp
Star Anise, Extract 1/4 tsp
Chinese 5 spices 1/8 tsp
Cinnamon, Ground 1/8 tsp
Cardomon, Ground 1/8 tsp
Chili Oil, Hot 1/4 tsp
Instructions
In a medium pot, heat oil, sauté garlic, onion and ginger, sear the beef quickly and dish up.
Add beef stock, put all dry spices in sachet bag and add to the stock. Bring to boil and add chili oil to simmer for 25 minutes. Remove sachet bag.
Amoy frozen rice noodle: blanch rice noodle in boiling water for 1­1.5 minutes.
Drain and cool in icy cold water.
Bring the pho broth to boil and add rice noodle until reboil. Remove from heat.
Pour into a serving bowl. Arrange beef slices on noodles and sprinkle with scallion on top. Arrange bean sprouts, Thai Basil, Cilantro, Lime on a side plate. The guest adds the ingredients on the side plate in soup. Serve together with Hoisin and chili sauce.
Amoy http://amoyfoodservice.com/