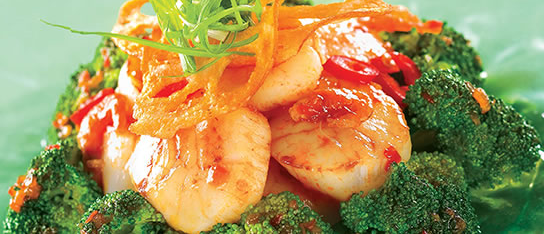 27 Sep

Stir-Fry Scallop with Broccoli

Stir-Fry Scallop with Broccoli

2016-09-27 07:22:22

Ingredients
Scallops 12 pieces (6-8 oz)
Blanched Broccoli sprigs 12 oz
Minced Garlic 1 tsp
Red Bell Pepper for garnish, Julienne A few rings
Green Onion for garnish
Vegetable Oil 2 Tbsp
AMOY Chinese Stir-fry Sauce 1 2/3 Tbsp
Instructions
Heat oil, lightly pan fry the scallop and sprinkle a dash of salt. Reserve on the
side.
Heat oil, add mince garlic until fragrant develops. Stir in scallop, broccoli and
Amoy Chinese stir-fry sauce for 1-2 minutes, garnish with green onions and
red pepper. Serve hot.
Notes
For frozen scallop, blanch in boiling water with some salt for a few second before pan fry.
Amoy http://amoyfoodservice.com/