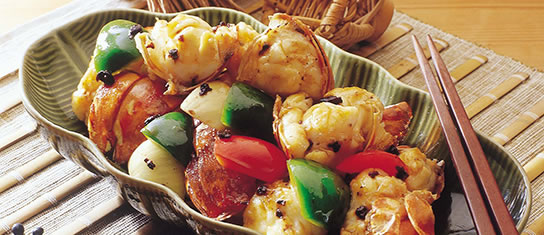 27 Sep

Stir-Fried Lobster Tail / Tiger Shrimp

Stir-Fried Lobster Tail / Tiger Shrimp

2016-09-27 07:25:36

Ingredients
Chilled Lobster tail, cut into bite-size 4 oz
or Tiger Shrimp 16/20 6 oz
White Onion, Large 1/2 (4-6 oz)
Green Bell Pepper 1/2 (2.5 oz)
Red Bell Pepper 1/2 (3.5 oz)
Minced Garlic 2 tsp
Vegetable Oil 3 Tbsp
Salt 1/2 tsp
Sesame oil 1/2 tsp
Corn starch 1 Tbsp
AMOY Chinese Stir fry Sauce 2 Tbsp
Water 1/2 cup
Instructions
Rinse and wipe dry lobster tail/shrimp and mix with seasonings.
Cut onions, green pepper, red pepper into large triangles.
Heat 3 Tbsp oil, shallow fry in medium hot oil until half done.
Add minced garlic, onion, green and red pepper, mix well and add sauce, cover and cook for 1 min. Ready to serve.
Amoy http://amoyfoodservice.com/