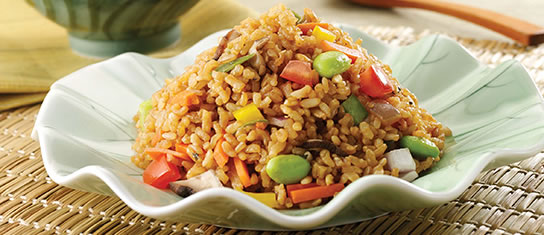 27 Sep

Gourmet Vegetable Fried Rice

Gourmet Vegetable Fried Rice

2016-09-27 07:23:30

Ingredients
Yellow Pepper, Diced 2 oz
Carrot, Diced 1 oz
Green Soy Bean (Edamame) 2 oz
White Onion, Diced 1 oz
Green Onion, Sliced 1 oz
Cooked Rice, made day prior 8.5 oz
Vegetable Oil 3 Tbsp
AMOY Chinese Stir-fry Sauce 2 oz
White Pepper to taste
Instructions
Blanch carrot and green soy bean in boiling water with a dash of salt and 1 Tbsp of oil for 45 seconds.
Heat 1 Tbsp of oil, add white onion and fry until clear, add yellow pepper, carrot, soy bean. Mix well and reserve on the side.
Heat 2 Tbsp of oil, stir fry rice for 1-2 minutes. Add vegetables, all remaining ingredients and Amoy Chinese Stir-fry sauce, mix well and serve hot.
Amoy http://amoyfoodservice.com/